Back To The Future IV was an unplanned sequel to Back To The Future III and was the proposed final chapter in the franchise due to Robert Zemeckis stating that he was done with the series and that Michael J. Fox is diagnosed with Parkinson's Disease. There were talks of making it in the mid 1990s, but was never made. However, Christopher Lloyd expressed interest in starring in the unmade film for many years.
Unknown.
Michael J. Fox as Martin "Marty" McFly
Christopher Lloyd as Dr. Emmett "Doc" Brown
Thomas F. Wilson as Biff Tannen
Lea Thompson as Lorraine McFly
Rest of cast unknown
Why It Was Cancelled
Edit
After the release of Part III, Robert Zemeckis and the other filmmakers stated that the series was over as shown in the picture on the right and Zemeckis said that he was finished making Back To The Future films: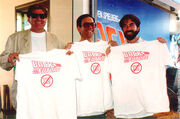 2. Michael J. Fox is too old to play our protagonist and has Parkinson's Disease.
The film was never made and was cancelled for good. However, there have been various trailers made by fans of the films. In 1991, a year after Part III was made, Universal made an animated series.
Ad blocker interference detected!
Wikia is a free-to-use site that makes money from advertising. We have a modified experience for viewers using ad blockers

Wikia is not accessible if you've made further modifications. Remove the custom ad blocker rule(s) and the page will load as expected.