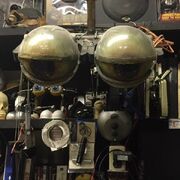 Five Nights At Freddy's is a cancelled live action horror movie based off the popular indie-game of the same name. It was going to be distributed by Warner Brothers and directed by Gil Kenan who also directed Monster House and City of Ember.
It would have been based on the backstory of Five Nights at Freddy's like the bite of 87 the missing children incident and much more.
Why It Was Cancelled
Edit
Warner Bros. could not get the animatronics to work on set.
The final story was not finished since Freddy Fazbear's Pizza simulator was not released yet and was the closure to FNAF. 
It was most likely scrapped in favor of Ready Player One And Minecraft.
The filmmakers kept auditioning directors and Scott announced on Steam and social media that the movie was cancelled.
Because it has caused Warner Bros. for turnaround and even Gil Kenan left the project, that is until Blumhouse Productions (known for Paranormal Activity, Split and Get Out) has now joined for the work of Five Nights At Freddy's film about a few months later. In 2018, it was announced that Chris Columbus will be directing the movie along for writing and production with Blum and Cawthon.