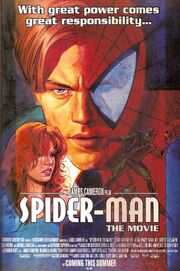 James Cameron's Spider-Man: The Movie is a proposed take of the comic book character Spider-Man made by Lightstorm Entertainment scheduled to be released sometime in 1992 or 1994. The screenplay was written by Barry Cohen, Ted Newson and James Cameron, who was also going to be the director.
Unknown
As of right now, the only known cast member is Leonardo DiCaprio who was going to be cast as Peter Parker/Spider-Man.
Why It Was Cancelled
Edit
Carolco Studios and 21st Century Studios as well as Marvel are now bankrupt.
Carolco ceased active production of Spider-Man in 1992, and a year later, Golan filed legal action against Carolco.
The film was permanently cancelled.
Some of the elements of the script were later used in the 2002 movie Spider-Man.