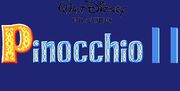 Pinocchio II was the planned sequel to the Disney animated film Pinocchio.
Sometime after the first film, Pinocchio is now a real boy and is now on a journey to learn more about life as it is. The film would later have Pinocchio ask why life is sometimes unfair.
Why It Was Cancelled
Edit
John Lasseter became CEO of Walt Disney Animation Studios.
Disney cancelled all future direct-to-DVD sequels in 2007.
The film was shelved and will probably remain so from now on since Disney discontinued making direct-to-DVD sequels.